Most of the digital assets are still trading in the negative as the general downturn in the crypto market continues.
The SHIB Community Keeps Growing
However, the SHIB community keeps growing even though the SHIB token has shed 35% of its value in the last seven days. Before May 10, 2022, the SHIB community grew by 15K members between April 10 and May 9 2022. More importantly, the community grew by 15K members in the last seven days. A Coinmarketcap data shows that SHIB holders as of May 16 were 1,161,805, nearly 15K more than the holders as of May 10, which was 1,146,148.
Thus, the Coinmarketcap data proves that the SHIB community has grown by nearly 30K members in the past 30 days, with more people increasing their SHIB holdings as the price of the meme-themed token keeps falling.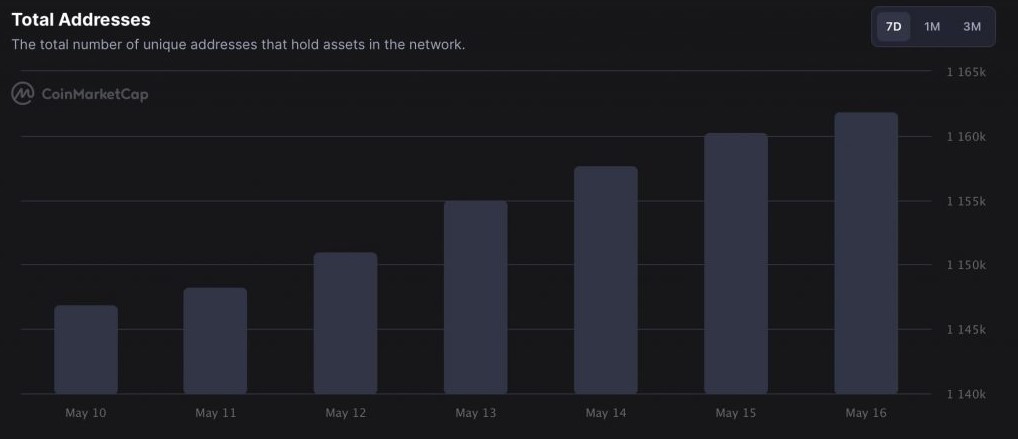 SHIB holders' growth in the last 7 days. Source: Coinmarketcap.
The Decline In SHIB's Overall Evaluation Becomes More Pronounced
SHIB's value and its overall evaluation have been declining in recent times. The decline even became more pronounced following the recent deep downturn in the crypto market. SHIB's overall evaluation as of May 16 from Coinmarketcap is $6.67B. This amount represents a nearly 52.84% decline in its market cap, given that its market cap as of April 16 was $14.12B.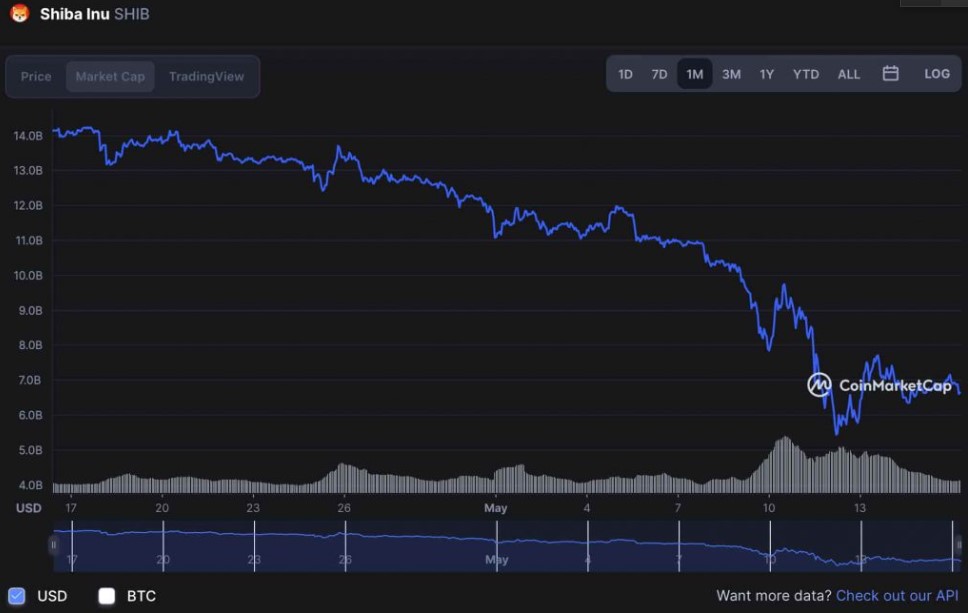 SHIB's marketcap's decline in the last month. Source: Coinmarketcap.
Consequently, SHIB is now ranked as the 15th most valuable digital asset. Also, SHIB's price has dropped by 3.42% in the past 24 hours and 31.64% in the last seven days, and it currently trades at $0.00001219.
SHIB Community Burns Over 2.17B SHIB Tokens In Seven Days
The SHIB community continues to make efforts to improve the value of its native token by reducing its supply circulation. Over the past seven days, the SHIB army has sent over 2.18b SHIB tokens to dead wallets in 155 transactions.
During this period, the top two SHIB burners were SHIB burn games (owned by Travis Johnson) and 1CENT (a SHIB-inspired token). On May 15, SHIB burn games revealed that it burnt a whopping 283m SHIB tokens in one transaction. The firm further provided evidence of the burn using screenshots and a transaction link.
SHIB burn games' tweet of the massive SHIB token burn. Source: Twitter.
SHIB burn games have been contributing to SHIB token burns since last November. Since then, the company usually organizes a SHIB token burn 'party' in the middle of every month. The company estimates that it has burned 1.98b SHIB tokens since last November.
The company also claims that the ad revenue from all its games, including the popular ones like Brick Buster, are invested in SHIB token burn. Conversely, 1CENT organizes SHIB tokens' burn event weekly, and the 1CENT team disclosed that it burnt over 34.24M SHIB tokens this past week. 
Results of our weekly burn🔥$SHIB 34,240,306 | Buy in: 0.00001781$BONE 4,675 | Buy in: 0.53#1cent #xcent #shibtoken #bone #shibarmy @shibainuart
@Shibtoken @GossipShib @shiitcoiner pic.twitter.com/Tsn74Lrnyi

— 1Cent (@1Cent_token) May 9, 2022