As the volatility of the crypto market reaches a pitch high, data analytics show that the trading volume of Tether in the first quarter of this year is significantly lower than that of the same quarter last year. While many crypto investors are transferring their cryptos to stablecoins, there isn't a massive influx of investors in USDT.
Many investors who don't have a high-risk appetite prefer to invest in USDT because it is pegged to the USD in a 1:1 ratio. This means that Tether will always have the same value as the USD or, technically speaking, it is collateralized by actual US dollars; hence, it is less affected by the volatility in the crypto market, unlike other cryptos, notably BTC.
Stablecoins are regarded as a store of value because they provide liquidity and are less risky than the risky and volatile crypto space. Apart from the USDT, Gemini and USDC are two other stablecoins collateralized by the fiat USD. Some stablecoins are pegged to Silver, Gold, or other fiat currencies such as Euro and Yen. Tether's Q1 2022 trading volume dipped by nearly 47% when its Q1 2022 trading volume is compared to its Q1 2021 trading volume.
The value of this decline is estimated to be around $9.8 trillion. According to analysts, the decrease in the trading volume of the broader crypto market caused a drop in Tether's trading volume for Q1 2022.
Why Did Tether's Trading Volume Decline?
The main reason for the decline in Tether's trading volume in Q1 2022 is a significant drop in its total transaction count. USDT's total transaction count for Q1 2022 was 26,455 per messari data. Comparing this count to Tether's Q1 2021 total transaction count of 52,459,263 shows a 99% decline.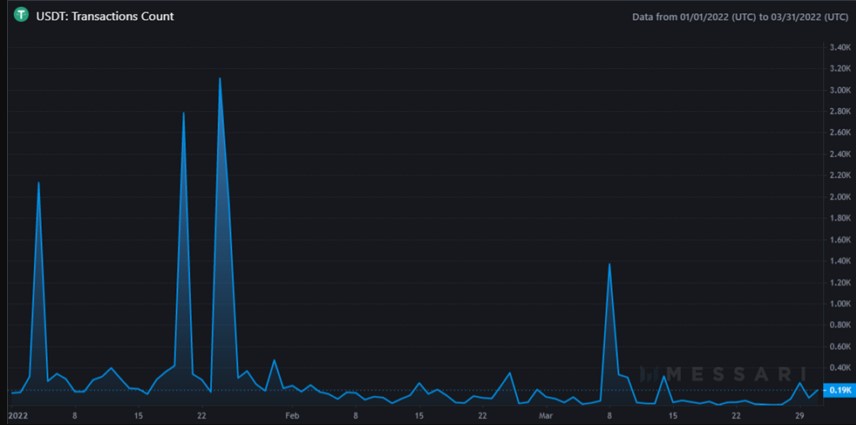 USDT transaction count. Source: Messari
This decline in transaction count also maintained a similar trend when this amount for January – March 2021 is compared to January – March 2022. The decrease in USDT transaction count for march 2022 can also be attributed to the Russia-Ukraine war, which negatively affects the financial markets and not just the crypto market. Santiment data revealed a downward trend of USDT transaction volume being moved among wallets.

The downtrend in USDT moved among wallets. Source: Santiment
A Comparison Of Q1 2022 And Q1 2021 USDT Trading Volume 
The best way to understand the effect of the decline in USDT trade volume is to compare its trade volumes in Q1 2021 and Q1 2022. Tether's Q1 2022 trading volume of $1.85 trillion is significantly lower than its Q1 2021 trade volume of $3.46 trillion.
Also, USDT trading volume in march 2022 is $1.96 trillion, nearly $1 trillion less than its trading volume in March 2021. One other factor that proves the stability of Tether is that it has maintained the same price of $1 between January and March 2022.