The latest WhaleStats data revealed that Ether's top 100 whale holders are now interested in holding more LINK tokens.
Ethereum Whales And LINK Purchase
Thus, their latest moves have pushed LINK to become the highest traded digital asset within the past 24 hours. Also, the data further revealed that LINK is now among the top four most purchased coins after Ethereum whales recently purchased vast amounts of LINK tokens.
Which tokens the 100 #ETH richlist looking at today?

In 24 hrs

🥇 $LINK @chainlink – most traded
🥇 $FTT @FTX_Official – largest hodling
🥇 $UNI @Uniswap – most widely held token

Honorable mentions$FTM$SAND$BAT$AAVE$PAXG

What's your favorite token on the universe? pic.twitter.com/YnkRoNmTgu

— WhaleStats (tracking crypto whales) (@WhaleStats) March 11, 2022
The WhaleStats report further stated that these top Ether whales had made a combined purchase of LINK tokens worth nearly $23m (about 1.73m LINK tokens) within the last 24 hours through five transactions. WhaleStats further reported that one of the top Ether whales (Gimli) is responsible for acquiring about $6.3m worth of LINK tokens (about 477 LINK).
🐳🐳 ETH whale "Gimli" just bought 476,799 $link ($6,303,296 USD).

Transaction hash: 0xc453a8fd6086f7b103667a2dbda2c6555e8c7b792181a1f38c83f84885d358dc#LINK #ERC20 #DEFI #ETH #whalestats

— WhaleStats (tracking crypto whales) (@WhaleStats) March 10, 2022
Various data show that Gimli ranks among the top Ethereum whales, and LINK represents his 22nd top token holdings based on their dollar equivalents. As of this writing, Gimli owns $6.4m worth of LINK tokens (approximately 495k LINK). In dollar terms, the average purchase price for each LINK token is $13. Generally, the top 100 Ether whales now own nearly $166.5m worth of LINK tokens. The latest CoinMarketCap data showed that LINK is now among the top 22 digital assets globally based on market cap.
2K ETH Burned Daily
While it seems unclear why many Ethereum whales are increasing their holdings in other tokens, there are unconfirmed reports that the inability of the network to lower transaction fees might be a probable cause. Ethereum is about to become deflationary as the network is now burning more ETH than produced. The primary aim of this move is to lower the transaction charges on the network.
Since the start of this burning mechanism last august, 1.98m ETH (valued at about $5.5B) have been burned, with an average of 2K coins being burned every day.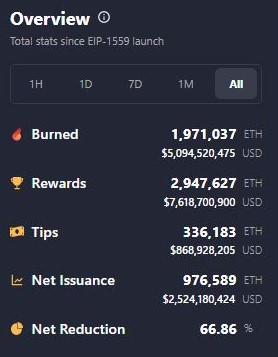 Burned ETH. Source: Watchtheburn
Despite implementing this burning process, the ETH price hasn't surged as expected. Thus, indicating the market is gradually adapting to this burning process. During massive congestion on the network, many users reportedly paid over $50 in transaction charges. More ETH tokens were burned as the demand for Ethereum-built NFTs and DeFi platforms soared.
Effect Of The Burning Process
A recent WatchTheBurn data showed that one of the ways the network seeks to control the fees is to issue lesser tokens when it experiences enormous service demands on the platform. As of this writing, gas fees of 17 Gwei is required to validate transactions on the Ethereum network compared to the 55 Gwei needed in the past couple of weeks, 
Thus, proving that the aim of the burning process (decrease in transaction charges) is gradually being fulfilled. Despite the reduction in the amount of issued ETH tokens, ETH prices are yet to rise, an effect ETH investors are expecting to happen.